SIMSPRAY allows you to learn car or industrial painting and blasting, step
by step and through practice.
This ultra-effective simulator allows you to save up to 50% of your training costs, and to significantly reduce your students' training duration. Thanks to SIMSPRAY, they will learn in a fun way how to perform the real professional's gesture, and to practice as many times as they want. 
SimSpray trains proficient workers, faster. This training tool creates accessible, repeatable learning experiences that do not increase material costs or interfere with the production line.
Your teambuilding or party will be more fun with SimSpray. You can make competitions in painting and your guests will be thrilled.
Show your colleagues how cool is the life of a painter and how difficult job they have to conduct.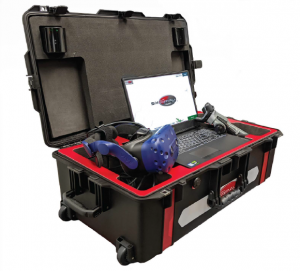 The table-top, easy-to use, simulation-based HVLP painter training tool that turns any classroom into a spray booth. Accelerate HVLP painter training with SimSpray Go´s immersive VR technology while saving time, money, and reducing exposure to VOC´s.
Realistic Paint and Defects (Drips, Sags, Dry Spray, and Orange Peel)
Easy-to-Follow Visual Cues (Angle, Distance, and Speed)
Paint in Coating or Coverage (Mil Build) Views
Customizable Curriculum
3D Performance Analysis and Replay
HVLP

HVLP Conveyor

A

irless

Airless Conveyor

Air-Assisted Airless

Air-Assisted

Airless Conveyor

Powder Coating

P

owder Coating Conveyor

Abrasive Blasting
Applicator Speed (Cue)

Spray Angle (Cue)

Part Distance (Cue)

Transfer Efficiency

Mil Build

Defect Identification

HVLP Edge-Blending

Painting on Conveyor
Automotive

Aerospace

Construction 

Furniture & Cabinetry

Heavy Equipment

Industrial Components

ASTM Panels (American Standards of Testing & Measurement)

Basic Panels