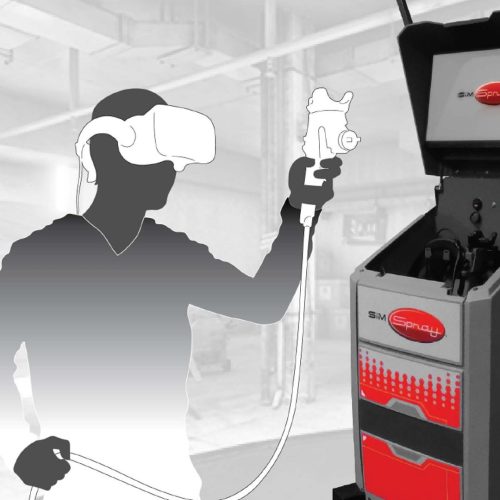 SIMSPRAY allows you to learn car or industrial painting and blasting, step by step and through practice.
This ultra-effective simulator allows you to save up to 50% of your training costs, and to significantly reduce your students' training duration. Thanks to SIMSPRAY, they will learn in a fun way how to perform the real professional's gesture, and to practice as many times as they want. They will then practice in the real world, once they have acquired the skills that will allow them to perform a remarkable job.
A full range of exercises
SIMSPRAY is a virtual spray paint learning system that enables training organizations to be more efficient and more sustainable while reducing training costs. SIMSPRAY embeds the HVLP, Airless, Airmix and electrostatic powder coating processes.
Two options are available as well:

the sandblasting add-on, provided with an abrasive blast gun that offers training on paint stripping and preparation process of industrial parts to be painted

the edge blending module is ideal for those who are learning automotive painting. It teaches fundamental blending skills for spot and panel repair
A supervised or autonomous learning
SIMSPRAY offers the trainees some exercises that are adjusted to their level, from beginner to expert.
the lesson mode to guide the trainee through a series of projects concerning one procedure. The trainee must reach a certain score to be able to access the next exercise

the free mode to learn how to paint in a more autonomous way. The trainee chooses some options among a range of projects
There are 2 training modes:
A realistic virtual training tool
SIMSPRAY enables the instructor to track and mesure the performance of the trainee on a simulator.

The system allows your trainee to learn:
how to adjust the air pressure and paint flowhow to control coating thicknes
show to master distance, speed and angles
how to work on flat or round surfaces
how to work on complex surfaces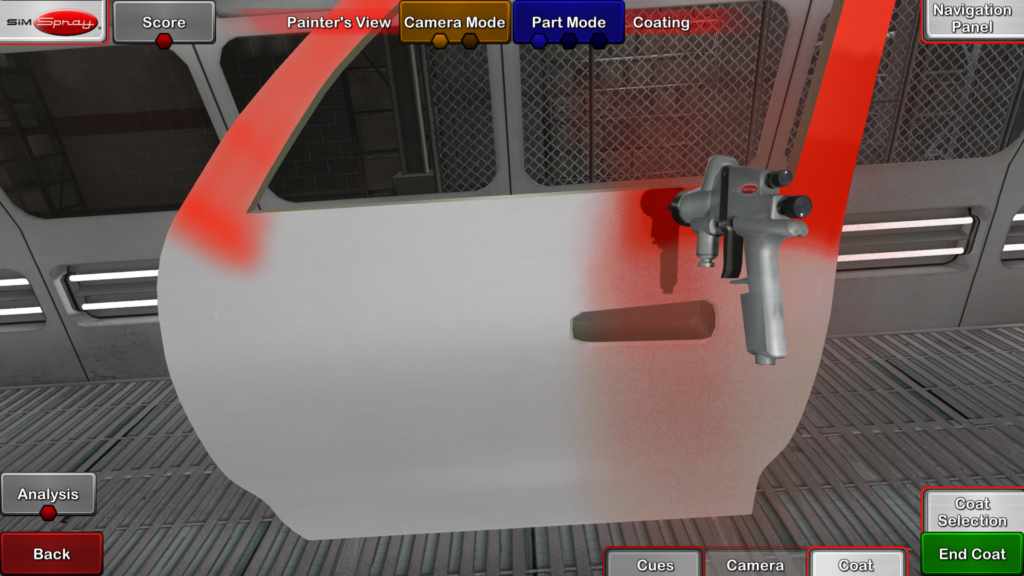 Education, cars, trucks and coating
manufacturers
HVLP, Airless and Air-assisted airless
Automative parts 

Edge blending module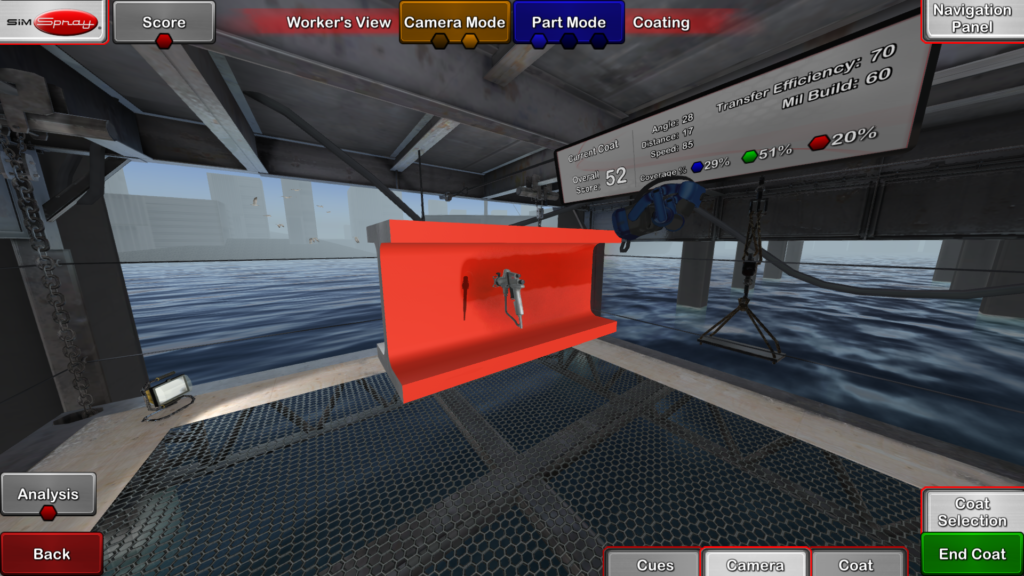 Construction, shipbuilding, army
HVLP, Airless and Air-assited airless
Automotive parts 

Construction parts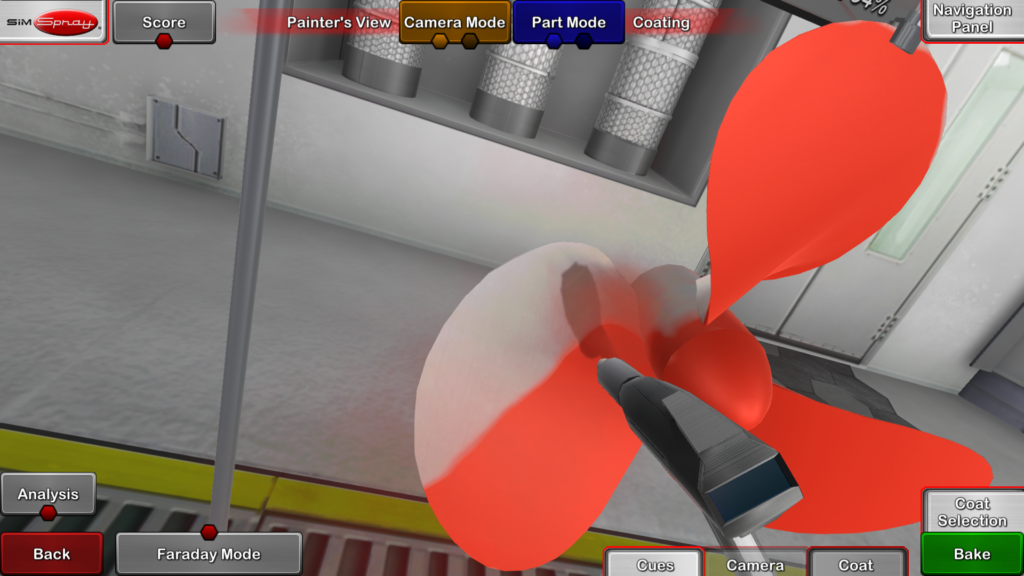 HVLP, Airless and Air-assisted airless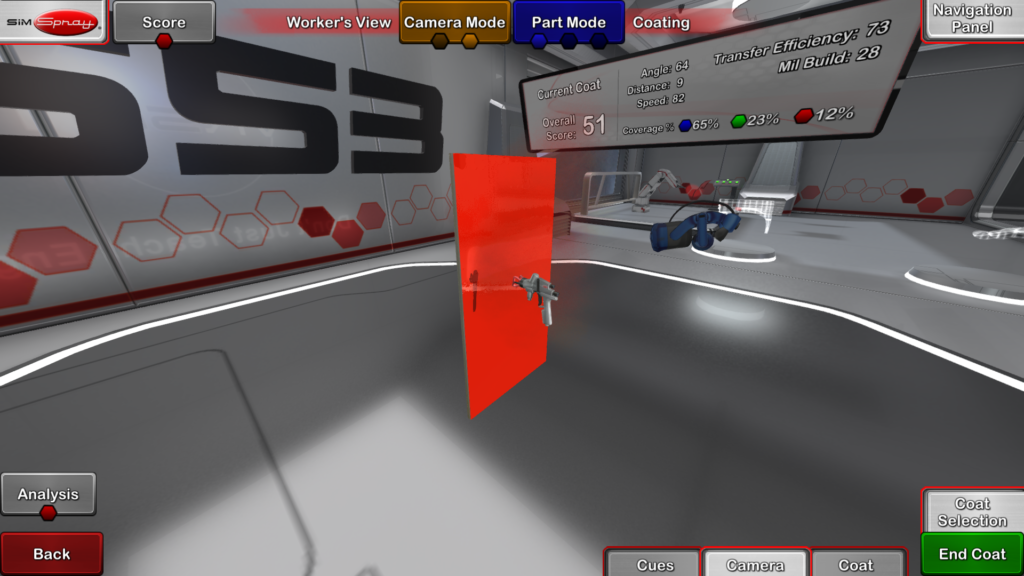 HVLP, Airless and Air-assisted airless and
 Powder coating
Automotive parts
Construction parts
Edge blending module
Abrasive blating module